Benefits & Advantages of Indoor Artificial Plants.

This is a subject that we love to discuss with our customers as these points are what makes our business what it is. Whilst we would never advise against the purchase or use of natural plants, there are many advantages to using faux plants, especially indoors.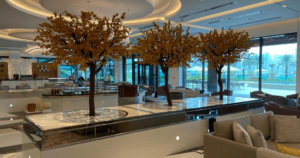 1 – Bespoke Plants
With indoor artificial plants, and particularly with the bespoke artificial trees and plants that we at Shajara work with, you can design your projects with as much detail as you like. If you need a 3.42m height tree, we can supply it.
The Shajara team are experts at taking digital design and turning it into real-life products.
Equally, you don't need to wait for the tree or plant to grow to fit your project. When a new project such as a shopping mall, hotel, restaurant, or office opens, instant impact is critical. Particularly in a world full of social media and Instagram.
Even our 'off the shelf' products can be customized, if it needs some additional leaves or a little more height or even something removed, then we can assist with this as well. The below Areca palm tree was customized according to this project's unique requirements.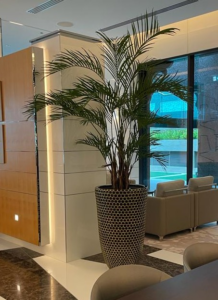 2 – Maintenance
This is the big one as there is a potentially immeasurable cost associated with it. Many visitors to the retail and hospitality spaces that Shajara regularly works in don't see the hard work that goes on behind the scenes to keep natural plants alive. This often fails and the plants are replaced many times without visitors being aware.
Irrigation also falls under this category, if you are a regular on the Dubai Roads like we are, you will have driven through the clouds of misty water spraying the plants beside the roads. The huge volume of water required is no different for indoor plants.
3 – Direct Sunlight
Whilst there are hardy plants that don't always need much of it, natural plants require sunlight to survive. Here in the middle east, especially during the summer months, we spend a lot of time indoors. There are huge interior spaces here to accommodate this escape from the heat, such as malls and hotels, and this doesn't bode well for sun-loving natural plants.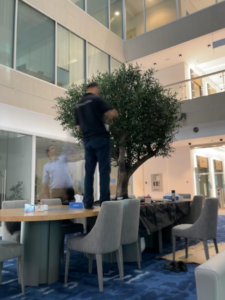 4 – Bugs and Smells
Real plants require a natural environment, and this can include the soil beneath the plant. The soil, mixed with regular irrigation can lead to potential issues with insects, bugs, and smells.
5 – Why not use both?
Sometimes a best of both approach can work well and suitable real plants can be combined with luxury artificial plants, the below photo shows natural plants alongside artificial. Can you tell which is fake and which isn't?