Is it worth buying plants online in Dubai?
There are many good reasons to buy artificial plants in Dubai, as discussed in our other articles, but why buy them online?
Why should you buy fake plants and fake trees online in Dubai?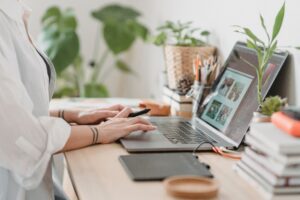 1 – Simplicity
Buying plants for your home or project could involve trips to many suppliers who might be spread over many kilometers.
Buying online allows you to shop from your home or office, quite often whilst sitting in the environment where the plants will be placed. This can allow for much better decisions on which plants to select.
Avoiding the hustle and bustle of the malls and high streets is also top of many people's lists. You can buy artificial plants whilst sipping a coffee and watching your favorite TV.
2 – Save time
Your time is a lot more efficiently utilized when browsing artificial plant products on our website than visiting many retail stores.
Using the search tool on the website allows you to quickly find fake plants and fake trees that could otherwise take many hours to visit each shop.
You are able to spend more time on the things that you enjoy such as being with your family or concentrating on that promotion or bonus at work.
3 – Be more selective with your buying
Having all the available web stores at your fingertips allows you to browse for the fake plants and fake trees that work best for you or your project.
We've all been in that place where you've been to so many retail stores that you are tired and force us to buy something. Perhaps we may not have given some more time for reflection. Buying online keeps this process all in one simple place on your phone or computer.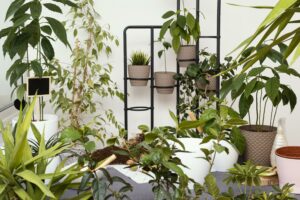 4 – Discount deals
Everyone loves a deal and there are not many better feelings than entering a special discount code into our web shop and getting an artificial tree that you've had your eye on for weeks with a huge discount.
Keep an eye out for special discount codes and coupons.
5 – Comparing prices is easier
You need a photographic memory to remember the prices of all the items in a retail store so that you can compare one store to another.
A quick glance between pages gives you all the information that you need to check prices on faux plants and artificial trees.
6 – Exclusivity
Some products, in particular the range of artificial plants and trees in our webstore, are not available in retail stores.
Specialist suppliers, such as us at Shajara who specialize in bespoke artificial trees, do not present our products in retail stores. The website is the only place, outside of the many projects that we work on, to see our products.
7 – Bespoke Options
Generally speaking, when you buy from a retail store, the item is 'off the shelf' and is sold exactly how it is displayed.
Buying from a website such as Shajara allows you to customize your purchases. You definitely don't get this in a shop.
8 – Free Shipping
Carrying heavy items such as a large bespoke artificial tree, getting it into your car and then moving it from the car to the villa or apartment, can be very difficult. These issues are all dealt with by buying artificial plant products online with free shipping. You can let someone else do the moving for you at no extra cost.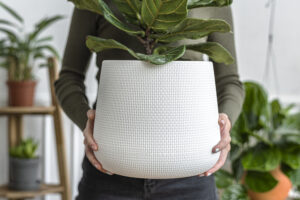 Buying fake plants is very easy these days. But you have to be more accurate in choosing the best online store or website that provides the plants that meet your requirements. The major benefits of buying plants online include saving your time and effort, getting discount deals, getting customized artificial plants, and easier price comparison of a wide range of products. If you are looking for the best store or retailer to buy artificial plants online, Shajara will be a beneficial option for you. Here at Shajara, there is an exclusive collection of indoor and outdoor artificial plants that will meet your expectations.